When marketing is becoming a saturated field, and cutting through the noise is now a huge, exhausting challenge, what are you left to do as a marketer? You're no doubt carrying hefty KPIs and objectives, the pressure to explain the ROI to those above you, and are probably finding that traditional tactics are no longer hitting the mark for your brand. That's understandable – the consumer-driven world's fusion with the digital era means finding exactly how to tap into savvy target audiences' attention spans is a mammoth task.
But it is possible.
There's this little underdog called content marketing, and as it begins to rise from the shadows, its ability to garner trust and credibility for brands is something that other avenues haven't quite been able to do as effectively. While the term 'content' seems to scare off those who feel they don't have words to contribute or information to feed the world consistently, the field itself is still widely misunderstood. In essence, content marketing is a strategic approach that focuses on informing, persuading and nurturing audiences through many more methods than just the written word.
What's the big deal about content marketing?
More and more businesses are adopting this strategy into their marketing department than ever before. Previously, content marketing was usually left out in the dark and ignored, but with 70% of B2B marketers saying their organisation's content marketing strategies are more successful than they were 12 months ago, it's only further showing the explosion of this field.
Content marketing aims to subtly pitch your goods, services and products to your audience, without seeming like you're doing so at all. Through a balance of relevant, unique and authentic content that's based on your business's pillars, frequently pushing out quality information that helps your end-user is undoubtedly the most beneficial way of gaining new leads.
The actual channel of content marketing isn't even a new concept – it's been around for many, many years, but it's mostly gone unnoticed until now.
You only have to complete a simple search of 'content marketing' in Google Trends to see the worldwide interest the field has experienced since 2004 (see below). This enormous growth is vital – it's the powerhouse of what's driving marketing trends in businesses all across the globe, no matter their industry, niche or objectives. Content marketing works, and professionals of all walks of life have finally caught onto that.

But we know you're probably sitting there still pondering about what content marketing is. Yes, it's a way of enticing an audience through strategic, well, content. It's the method that's chosen and the careful approach that's taken that counts towards the result.
Consider a publication you like reading consistently. Maybe you look forward to reading a newsletter from your local personal trainer that's sent to your inbox every Friday. Perhaps you find yourself jotting down bits and pieces from it, and following up your PT with questions that are relevant to what you read. This is content marketing in action. The information provided to you by your gym was informational and quality-driven enough to entice you into making contact or showing engagement with who your PT is as a brand.
Beyond everything though, it's important to remember that content marketing is in no way, shape or form a channel for purely promotional material. It's an educational journey and should offer your audiences answers to their biggest questions, even if they weren't aware they had them (recall the newsletter).
How it works
The reason content marketing works so well is that it offers an authoritative voice that resonates with audiences in a world where advertising is inundating the world. Consumers are sick and tired of marketing messages that regularly flood their daily lives, and when brands take careful consideration and respect towards this behaviour, the audience is more likely to stop and pay attention to what they've got to say.
In a world where everyone's fighting to be the 'top dog', sometimes it pays off to nurture those who want a little peace and quiet gently. And that's where content marketing can step up the game.
If you're able to become a credible source that your audience relies on to answer their questions (without blasting your words in their face), you'll become more than just a lean-on when they need they need information. You'll become their answer and the first business they think of when they need services or products just like yours – time and time again.
Content marketers who are adopting this healthy approach are quickly discovering the benefits of using many formats to engage with their audience. These predominantly include:
eBooks

High-quality blog posts

Newsletters

Quizzes

Email direct marketing

Videos

Infographics and visuals

Brochures

Podcasts

Press releases

News articles

Whitepapers

Social media posts

Engaging website copy, and more.
Weaved together, these elements create a funnel for audiences that are more powerful than a majority of other marketing channels, and more so than many traditional ones.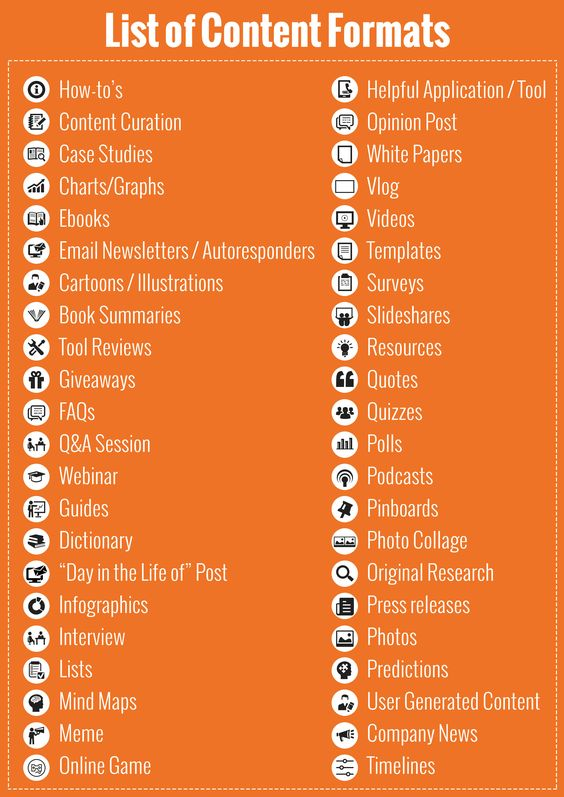 How to create a content marketing strategy
While technically anyone can become a publisher in their own right and create content that's relevant and engaging, it takes a well-thought-out strategy to pack a punch. Just like any form of advertising or marketing, content should never be something that's just jumped into when there's spare time on the table. It should always fall under a pillar of your business's strategy and adhere to the KPIs you have in place. Content that doesn't align itself with your goals is merely a waste of space, and that's usually where brands can go wrong – creating words for the sake of it won't do you much good. There has to be thought and value behind it all.
That's where strategy comes in
Marketers from all fields know the importance of sitting down and nutting out the road to take for any channel or effort. You wouldn't jump into a $100,000 full-page newspaper advertisement without having some thought or objective behind it, so the same goes for the content you're publishing (even if it's not pulling that kind of fee with it). Mostly, it doesn't matter if you're paying for a piece of content to be distributed across a network, or aiming for it to sit on your website playing a role in your overall sales funnel; every part of the material you create must have a purpose.
So how do you create a strategy that works for your business?
We want to say it's simple, but it's not. And that's because no form of strategy in marketing is. Just like all other formats, content marketing needs a bit of care and attention from the outset, and that usually means sitting down and brainstorming what your plan of attack is. Luckily, there are a few key questions to ponder (and your team), to start drafting a blueprint. Consider:
What are your goals for content marketing?

What do you want to get out of this? Are you looking for leads or just awareness? What's the long-term goal here? Do you need better customer retention?

Who's the target audience?

Envision what they look like, how they behave and what their motivations are. Where are they likely to consume content and what are their passions? Do they have primary interests that drive their purchases? What can you learn about them that will help you form great material?

What kind of content are you willing to create?

Do you have a preference? What type of material will your audience pay attention to? Will video be more beneficial than written content? What kind of resources do you have on hand to create different formats?

How will you be seen?

Will you invest in the distribution of your content to specific platforms (e.g. social media or paid avenues like Google AdWords and Outbrain)? Are you looking to engage with influencer marketing to support this? Do you have a budget for the amplification of the content you're creating? If not, how will you make sure your audience sees it?

How will you measure success:

Know exactly what success will look like in the end. Will it be based on leads, conversions or engagement? Will it just be formed off how many pieces you publish? What's the measurement period? How does this all tie in with ROI and KPIs?
Ultimately, these questions can all be answered by a content marketer who knows the business well enough to incorporate these elements. Once you've collected a solid enough outline of your strategy, you can begin to map out a schedule and distribution calendar over a set period. How long you want your content marketing campaign to go for is predominantly up to you, but it's always worth measuring along the way to ensure you're on track from start to finish.
By applying careful analytical assessment and an open mind to your approach, your business can quickly leverage the explosive growth that content marketing is offering brands all across the globe. No matter your objectives, tapping into an audience that's seeking answers from an authoritative industry voice means there's room for you to fill the gap. Be what they're looking for without going over the top – be a thought leader through the powerful channel of content.
Want to find out how our experts can help you with your content marketing success? Give us a call now on 1300 367 009.