What is the purpose of your website? If you had to give it an elevator pitch, would you know where the start?
Most businesses have all the basics included – think product and service information, company history, images, contact details, etc. But is your website actually working for your business and helping deliver you sales?
Enter content marketing – a tactic that turbocharges your website with a wealth of quality content that engages visitors and helps funnel them into sales channels (without even sounding 'salesy').
There are many benefits that content marketing delivers to your site, which will make your website a powerful tool and more than just a landing page with your company details.
What is content marketing?
There are many forms of marketing, which usually involve selling a product or service in the form of advertisements.
Content marketing works differently, by creating material that is not designed to implicitly promote the business's brand but rather provide immense value to the reader. It's sales, but with the intention of educating and nurturing – so much so that the sales process itself becomes a lot easier to initiate.
It is about providing free material that's valuable enough for your audience to create loyalty to your brand. This will, in turn, make these visitors more likely to purchase products and services from the business delivering the quality content on a regular basis.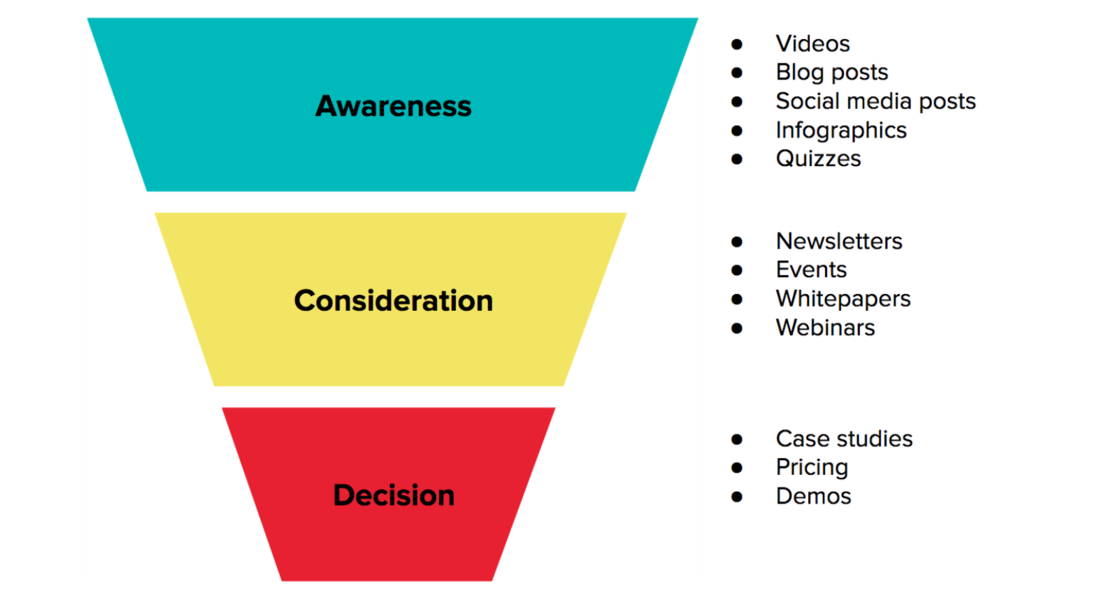 An example of the content funnel – according to audience positioning in the sales journey. Source.
So, here are some of the major benefits this tactic can bring your website, all aimed at improving your engagement and ultimately, drive sales.
It makes your site more accessible
Quality content marketing will mean a lot of information is stored on your website, and even through other sources (known as distribution or amplification).
During this time, it is important to ensure this material is stored in proper silos and is easy to locate for users of all abilities. If a visitor has to keep clicking around the site to find what they are looking for, they are more likely than not to get frustrated and move on.
Having clear and concise navigation set up will make the site's information easy to locate and create an accessible environment that will appeal to the majority of your target audience.
This is where layout becomes ultra important, and once you've got navigability down pat you can action the following advantages:
Positive brand presence: establish your business as trustworthy, reputable and make it stand out from the competition with easy to access quality content.
Tap into a mobile audience: A cluttered, confusing website is hard enough to navigate on a computer. Most of your visitors are going to come from mobile devices and there is no way they are going to stay if the experience is not accessible.
Wider reach: You always want people who are going to visit your website to stay on your website. Say goodbye to bounce rates.
Improved SEO
It is no secret that Google favours websites that deliver quality content on a regular basis.
Thin material will not enhance your website's search ranking and content that provides no value at all – but is just stuffed with keywords – can actually lead to your site being blacklisted by Google altogether.
This is called 'Black Hat SEO' (from old school movies where the bad guys wore black and the good guys wore white) and it is how Google differentiates those deploying quality content from those using unethical practices.
When created with value in mind, this material should work in your favour with Google's algorithms and help your page reach the first page of the search rankings – and stay there. Beyond that, putting effort into what you're creating will ensure audiences give you the time of day you deserve. Put in the hard yards and reap the benefits of a loyal audience as a result.
It encourages visitors to read your content
Put simply, quality content is always more likely to engage readers. The average attention span of the modern consumer scrolling through a feed on a tablet or mobile device is less than 8 seconds, so you have precious little time to grab their attention.
Advertising-based marketing is less likely to attract attention over material that's been designed to provide value and educate audiences seeking answers. It should all positively impact and inspire the reader.
In essence, content marketing gives you the power to have a stream quality-driven information running through all of your marketing channels – think social media, external channels, traditional feeds and more. Create one piece and replicate it dozens of times over; that's the beauty of investing time into this field – the opportunities are endless.
Great content goes far beyond just words, though. How it is presented is just as critical and each audience will interact differentially with various formats. In terms of website design, think carefully about these aspects, upon hitting publish:
Contrast that makes reading easier, especially on mobile devices. Typically, white or light backgrounds with dark text.
Lots of white space on the website to avoid clutter and to make individual items (words, images, videos, infographics etc) stand out.
Spacing between lines and paragraphs so the text is not all bunched up.
Titles and subheadings to break up the text. Pull-out quotes and other devices are also effective.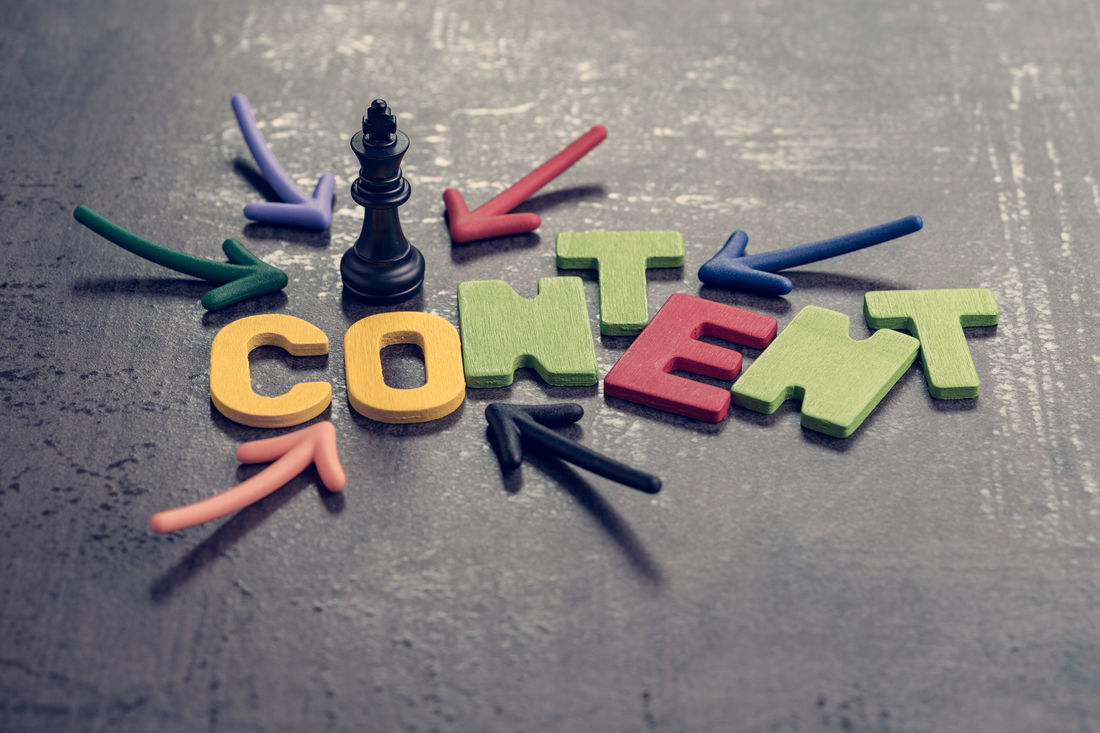 Engaged audiences will seek out more
The best part of a content-rich website is that you can hold the visitor's attention for longer. For example, research has shown that users typically only spend 15 seconds on a page before they decide whether to stick around.
Poor content or hard-sales pitches are less likely to appeal to the fickle audience types, leaving them more likely to leave without converting.
Quality content, however – of which offers value and compelling messages – is more likely to capture their attention and keep them reading through their journey. If they enjoyed their experience and gained value from it, they are more likely to continue to click through to more content in a bid to gain more value.
The appeal of attractive visuals
Your visitors are most likely not interested in reams of text and are not looking to engage in deep research. They want to find the information they are looking for, collecting any other items of interest of value along the way.
We use plenty of visuals to navigate users through the website content.
Most users are going to be guided by visual points – which can be images, videos or graphics, that clearly deliver information, instructions or other data that they are looking for. From a design point of view, this will also make your site much more attractive and appealing to visitors and make them more likely to stay and consume content.
Attractive visuals are also more likely to be remembered by your visitors, so your brand will be the first thing that they think of when they need your product or services.
It creates a clear path to action
Effective content marketing will provide well-placed calls to action so that viewers can quickly and simply make a purchase. While the content itself is not driven on sales, it should link through to the sales funnels so that consumers can easily access them.
That means they are going to more likely to purchase your products or services to it is important to make this process as pain-free as possible and easily accessible.
In the end, your efforts in this field should utilise your space and website layout to the best possible level. The difference is you'll find a far more engaged audience who understands the flow of your website and the value you bring them on a regular basis.
Is your website delivering the results you want? Speak to us today about how you transform your site into a powerful tool to engage, reach and retain a whole new audience.