When it comes to business, preparing a company's fresh, new website design can be a daunting experience. Even those with past experience can find the process confusing and time-consuming, while first timers can get lost in a sea of information.
The most important tip is to enlist the help of the experts, website designers who are trained and experienced in delivering the perfect product for you.
You can take the DIY approach, but be warned it is going to take a lot of research, a lot of time and there is every likelihood the final product will not live up to what you have hoped.
Whether you decide to enlist a professional or go ahead yourself, there are some key steps
to follow before you start physically building your site. So, here is your guide for a smooth-sailing when it comes to construction your new platform.
Get yourself a domain name
The very first step of the journey is to secure your domain name, which is the website URL people will use to access your site.
Once you have your business name sorted (or perhaps you are taking a more unique approach to your website domain), it is time to see if the URL is available. Unfortunately, in many cases the domain name you are seeking may already be taken. But that doesn't mean you have to completely rebrand your business.
There are options to secure a domain name using your business name by using different extensions instead of the typical .com or .com.au. For instance, you can experiment with variations like:
.co: This generally stands for company, commerce, and community.
.info: If you are providing information services.
.net: Traditionally this extension is used in technical and IT related industries
.org: For non-commercial and non-profit organisations.
.biz: A good option for e-commerce stores.
.me: This is more for personal sites and blogging pages.
However, as you explore your options, you'll notice that some domain name options are more expensive than others.
This is because there are premium price tags attached to desirable domain names. For example, resumes.com is going to be far more desirable than speedyresumes1.net.au – just because it's far more succinct and beneficial for SEO.
If you don't have the budget for a premium domain, consider creating one that could include tags including your business name, your location and/or what you do. Above all, it should be short, sharp and easy to type, while clearly identifying you in the industry that you operate within.
Find a web hosting company
There are many web hosting companies out there these days, so it is important to do research to determine which ones deliver what you need at a price point that you can afford.
As a rule of thumb, always look for speed, support and security as the three key functions you want from your provider (like the services we offer at Website Design Australia).
If you are not confident in managing your website and every update that you need to roll out, opt for an agency that can provide you with the level of support you'll need on a frequent basis.
And when it comes to speed, shared hosting means you will get what you pay for. There may be several other websites – even hundreds – on that server which is going to reduce how fast your pages load, but some providers are better than others.
Additionally, there's the option for cloud services. In the modern world, this solution is becoming more common and preferable. Ultimately, these servers can tailor customer needs in terms of speed and bandwidth and are also scalable, so you can start small and always upgrade in the future.
Pro tip: Don't believe the hype around unlimited offers with strangely low-price points. In the fine print, you will find they are able to throttle your performance at certain times and reduce the effectiveness of your website. It always pays to ask the right questions, when you're hunting around.
Above all, look at getting a HyperText Transfer Protocol Secure certificate as part of your service. This will mean the prefix before your URL will change from HTTP to HTTPS, scrambling the shared information between user and your website to keep this data secure from cyber criminals.
Strategise your content
This is a vital step, whether you are building your website or enlisting the services of a website designer.
You would never go into a major project blind and this is very much the same. It is important to have content prepared, a basic idea on what you would like for your website and to have copy well-written for your sales funnel. In the end, it should nurture those visiting your platform, educating them along the way and enticing them to interact with your brand.
In addition to this, you should have a map, a list of ideas and a feeling of what tone you want to help the process go quickly and deliver the outcome you are after. You'll notice that a majority of websites have a mutual layout, in terms of what content they include in their navigation. For example, these are the most common pages you'll see in a build:
About page: A summary of your business including staff profiles and contact details. There may also be a story of how the business can to its success or how the idea was born.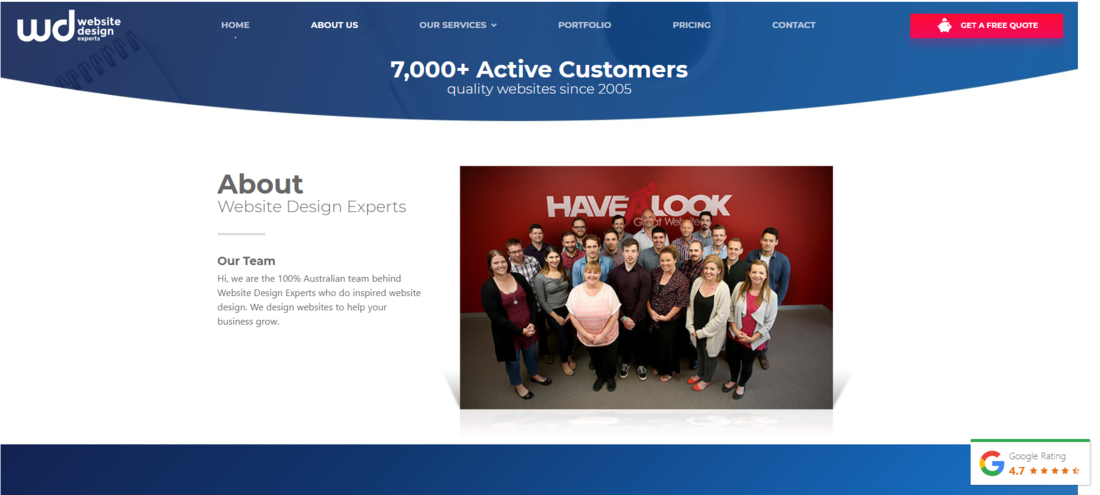 A clear description with images of the services your business provides.
Site Map: A clear guide to all the pages on your website that visitors can use to access each section easily and quickly.
FAQ: This can be updated over time, giving visitors an easy place to find answers to the most common questions they have.
Contact information: Absolutely essential. This is usually a digital form to harvest customer details.
Testimonials: You can toot your own horn all you like, but the views of your customers are more likely to influence the decisions of prospective customers.



Blogs: Google loves fresh content and will bump your page up the search rankings with regular, fresh content being uploaded. Just like this blog you're reading right now.


Calls to action: These should be on every page, giving visitors simple ways to engage with you in the way you want them to. If your business is e-commerce, they should only have to click a few times (if even that much) to make a purchase


Terms and Conditions: Basically, this is a disclaimer saying which country's laws govern the website.


Privacy Policy: This is mandatory. You must clearly outline your visitors what you will do with the personal information they provide.
Now it is time ... to not build your website
The temptation is always going to be there to build your own website, or get a relative or friend to do that job for you. There are many reasons why it is ill-advised to walk this path.
For instance, DIY platforms like Squarespace and Wix offer the carrot of professional-looking websites that you can build yourself, but the reality is a little different. Firstly, only four percent of all sites are built using Squarespace and only seven percent are built using Wix.
This is usually because these templated designs are not bespoke to you or your business. And they can start to look a little cookie-cutter at best.
Professional designers – like ours – have years of study and experience under their belt. To build your own platform, you are going to need to learn HTML from scratch; a process that can take six months on its own. And that is before you even look at Cascading Style Sheets (CSS) and the scripting language known as PHP. Coding is not something that is learned overnight.
By preparing a roadmap on which of these pages you want and what sort of content you would like included, a website developer can deliver you the perfect platform in a fraction of the time it would take you to create it yourself. In the end, you'll l end up with a professional, functional finish with all of the information you need to take your business to market in the digital world.
Thinking about getting a new website drawn up for your business? Get in touch with our experts on 1300 367 009.